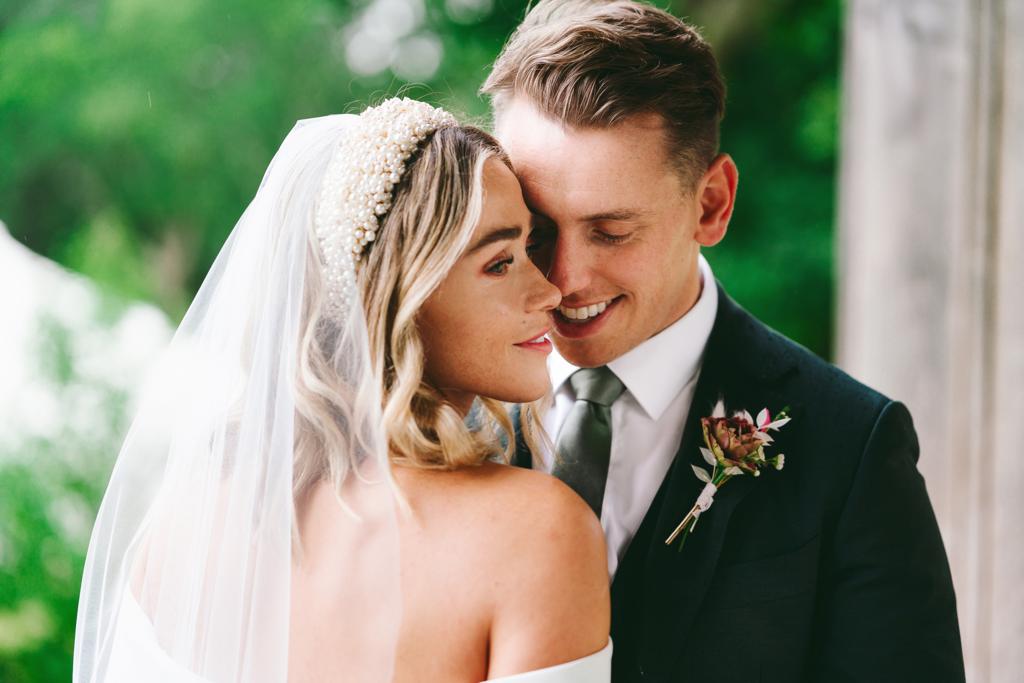 04 May

6 Steps To Get Your Smile Wedding Ready

Posted by: Jodie Blades Dental Nurse NVQ Level 3
Medically reviewed by: Dr Peta Leigh BDS (Melb), BSc (Monash) Award-Winning Tooth Whitening Dentist
Get Your Smile Wedding Ready
With wedding season fast approaching, and the celebrations we know and love firmly back on the cards, many brides and grooms are working their way through their wedding to do list in preparation for their big day.
If your wedding smile is still on your to do list or perhaps you haven't even thought about it yet, here are a few things you can do to get your smile wedding ready.
Visit The Dentist
The first thing you need to do is visit the Dentist, you may have an idea what you want for your smile, but having a consultation with a dentist will enable you to find out everything you need to know about the treatments available to you and how long they will take!
Ideally you should get started on your wedding smile as soon as you get engaged or as soon as you have chosen your wedding date.
Here at Willow Tree Dental and Orthodontic Centre we offer a wide range of treatments across many areas of dentistry. Our multi-disciplinary team can straighten, whiten and fix your teeth all under one roof!
Book A Hygiene Appointment
Many people consider having their teeth cleaned by the Hygienist as an optional extra. But, the truth is, regular visits to a Dental Hygienists are vital to maintaining excellent oral health, not to mention the aesthetic benefits you get from a good teeth cleaning.
Our dental hygienists use Ultrasonic cleaning to remove plaque and dental calculus, which appear yellow on your teeth. As well as surface stains left by coffee, tea, red wine and other delicious things that stain your teeth!
Having your teeth cleaned in this way will leave you with a healthier, brighter looking smile.
Award Winning Teeth Whitening
The most popular and effective treatment for wedding ready smiles is a course of teeth whitening. It is a quick, easy and effective way of transforming you smile, which is why so many brides & grooms opt for this treatment before their big day!
During your whitening consultation at Willow Tree Dental our award winning teeth whitening Dentist, Dr Peta Leigh, will discuss your desired results, check your clinical suitability and determine which is the best tooth whitening option that's safe and effective for you.
Don't make the mistake of leaving it to the last minute! A course of teeth whitening generally takes around 1-2 weeks to achieve your desired results, so be sure to book your whitening consultation well in advance!
Cosmetic Dental Treatments
Cosmetic Dentistry refers to dental treatments used to enhance the aesthetic appearance of your smile. In addition to teeth whitening, we offer a wide range of aesthetic dental treatments from minor aesthetic-boosting treatments to full smile makeovers.
You may want to consider cosmetic dental treatment if you have; a chipped or broken tooth, gaps or spaces between your teeth, uneven or small teeth, a "gummy-smile" or missing teeth.
Our cosmetic clinicians take enormous pride in relieving patients from embarrassment of their smile, by crafting beautiful, natural-looking results.
Get Braces?
If you have concerns about the alignment of your teeth and want to transform your smile with orthodontic treatment we can help.
Of course this is not a quick fix, so if you want to straighten your teeth in time for your wedding get your self to the Orthodontist as soon as possible.
It is possible to straighten teeth in as little as 6 months. However, your treatment time depends on the complexity of your malocclusion, so make sure you give yourself plenty of time to complete your treatment.
We offer a wide range of 'invisible' brace options at Willow Tree Dental and Orthodontic Centre; from Invisalign's clear removable aligners to hidden lingual braces and more!
Book your Orthodontic Consultation today to find out more about straightening your teeth in time for your wedding.
Make Changes To Your Daily Routine
In addition to dental visits and treatments, there are a number of things you can do yourself that may help to keep your teeth looking there best before the big day!
Elevate your oral hygiene regime at home – Be diligent with your oral hygiene regime. Brush your teeth twice daily, floss everyday and drink plenty of water. Especially after you eat!
Eat raw fruit & veg – Making smart snack choice will not only help keep your body in shape, it can also benefit your oral health. Raw fruit and veg are naturally abrasive and can help to keep your teeth clean throughout the day. Again, remember to drink water after to help wash away the sugars food leaves behind!
Be mindful of food and drink that stains – Consider using a straw to drink beverages that cause staining; coffee, tea, red wine etc. You may also want to avoid foods that can stain your teeth; beetroot, balsamic vinegar and tomato based sauces are some of the main culprits to be avoided!
Drink plenty of water –  Did we mention you should drink water! There are so many benefits to both your general and dental health from drinking water! The natural fluoride in water can strengthen your teeth and helps to prevent cavities. Drinking plenty of water also helps to keep your mouth clean by washing away food debris, acids and sugars left behind by your food; Keeping your mouth as clean as possible throughout the day!
If you are considering a smile makeover in time for your big day we'd love to help! Get in touch today to find out more about all of the treatments available and book your consultation!