16 Feb

Eco Toothbrush Review
It feels just like a normal brush!
sustainable eco friendly toothbrush review
We promised in a recent blog that we'd get back to you after one of us had used an eco toothbrush – and now, here we are!
RELATED: You need to change your toothbrush 
As part of our commitment to be a greener, more environmentally-friendly dental practice we're dedicated to promoting the reduction of plastic. Both, in the practice and by our patients. The sustainable bamboo brush is a real, small and achievable change we could all make. But the brush we recommend had to make the grade. We gave the Zero Waste Club toothbrush to a valued patient to use for a few weeks and asked that he get back to us with his findings.
What the Z-W-C says;
Zero Waste Bamboo Toothbrush is the perfect environmentally friendly toothbrush. The handle is biodegradable and the bristles are recyclable (We are in the process of rolling out a scheme to send us the bristles back for proper recycling). The handles are handcrafted, thus each toothbrush is slightly unique. So no two toothbrushes are the same.
Handle made of 100% biodegradable and sustainable bamboo

100% Vegan

BPA and toxic free nylon bristles

Anti-bacterial and super smooth finish
The package is recyclable and totally plastic free
The sustainable bamboo is waterproof and comfortable to use
The bristles are soft and feel no different to a standard toothbrush
They plant a tree for each toothbrush bought
This review is simple, switch now. It was so great to use, and honestly felt no different to my usual toothbrush. There's no compromise when using the eco friendly tooth brush from The Zero Waste Club. I can see no reason  to not switch. It is great to know that I'm taking lots of small steps in the right direction.
We're constantly trying to increase our range of environmentally friendly dental products that we trust. These three we have available to purchase at the practice.
Z-W-C Toothbrush
georganics floss
interdental bamboo brushes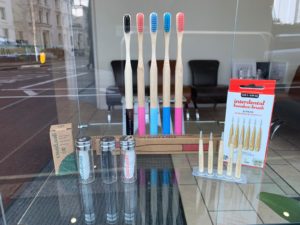 Book a Dental Exam