26 Nov

Finding a dentist you can trust

Posted by: Jodie Blades Dental Nurse NVQ Level 3
Medically reviewed by: Dr Peta Leigh BDS (Melb), BSc (Monash) GDC: 78758 | Award-winning General and Whitening Dentist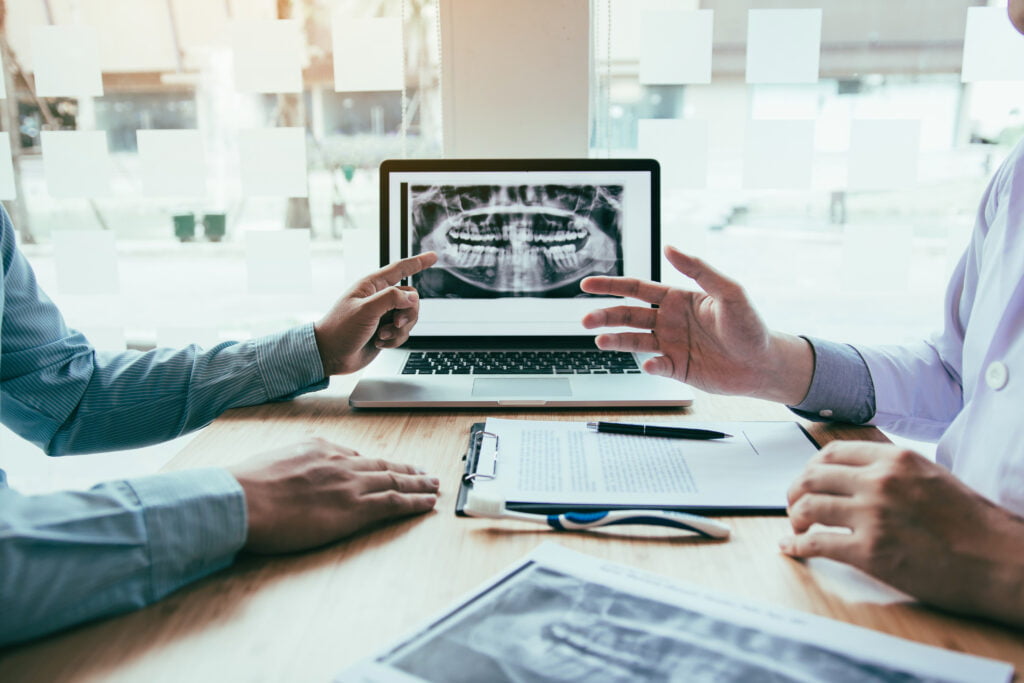 Trust between a dentist and a patient is something that is earned, not assumed.
How do you find a dentist you can trust?
by Willow Tree Dental and Orthodontic Centre in General Dentistry, and Dental Hygiene
Fear of the dentist, bad experiences in the past, a reputation for the profession as a whole… There are many reasons that finding a dentist you can trust might worry you. We understand and have made a commitment to ensuring we remain honest and transparent with our patients to built a reputable dental practice you can trust – so much so, that it's one of the four core values that we built the practice on.
What should you look for in a trustworthy dentist?
Communication
This is the key to many many relationships and while it might seem 'corny' or 'samey' – we believe it's genuinely the biggest factor in finding a dentist you can trust.
From your initial enquiry throughout your treatment journey and even as far as your aftercare. It is vital that you have an open line of communication with your clinician and that you understand all aspects of your treatment.
Time to make an informed decision
Once you've had your dental examination, you should be given the time to absorb your dentist's recommendations. You should not feel pressured into deciding in the dental chair, or paying upfront for treatments on the day. You should be given a written estimate of the treatment recommendations and be given an opportunity to go home, seek council from friends and family, do research, or even be given the chance to discuss it again at a complimentary discussion appointment. Allowing and facilitating patients to making informed decisions is a fundamental part of providing a trustworthy dental service.
Photographs and X-Rays
When something is found on clinical examination, your dentist should show you the x-ray or photograph of what they have found. And, if possible show you in a mirror. Your photos and x-rays become part of your clinical notes. They will serve as justification for treatment. So, you can be sure if you're shown a picture or an x-ray of the decay in your tooth, or chip or ledge on your crown etc. that you can trust that dentist is recommending treatment that you actually need. There is one small caveat to this. Which is; sometimes, there is no clinical justification to expose you to radiation so an x-ray wont be taken. So don't be afraid to just ask! Ask to be shown the area of concern and ask them to explain the proposed treatment.
All of the options
Dentistry has moved on leaps and bounds over the past century, with new materials and treatment approaches to all common dental issues. There is quite often more than one treatment option and treatment approach. You want to find a dentist that will recommend treatment that he or she would have themselves, and recommend to their friends and family.
Your dentist should tell you their preferred approach and explain the risks, the benefits and the life expectancy for the treatment. But also tell you about the less preferred options too.
Avoid any dentist that takes the "My way or the high way" approach to recommending treatment. As part of person-centred care and helping patients make informed decisions, a dentist you can trust will outline a number of treatment options and allow you to decide which you would like to do.
Experience, Qualification and Education
These count for a lot. Dentists study hard for years and years before they qualify. They're then required to do a fixed amount of continuing professional development each year. All dentists should remain up to speed with all of the latest industry developments. But, finding a dentist that has done and enjoys additional certifications and qualifications shows they have a real passion for their profession. Passion for their work really solidifies that you can trust their opinion.
Awards and Recognition
As with many industries, peer reviewed and awarded accolades really are worth their weight in gold. If you find a dentist that has been happy to present cases for awards to be scrutinised by the best in the business – then you can trust they're doing everything right!
Trusted Reviews
Look for real, trustworthy reviews from sites that authenticate the reviewer. Google Reviews, Reviews.com and Trust Pilot for example are all review sites that you can trust. Reading other's experiences of a dental practice is an invaluable tool to helping you find a dentist you can trust.
Trust your gut
If the shoe doesn't fit, don't force it. You're likely going to see your dentist twice a year for the rest of your life (that's more than some cousins that you only see at family weddings!). Therefore, we think it's a nice idea to find someone, dare we say, you look forward to seeing. Relationships are personal and dentistry is an intimate service so trust should be a founding part of that relationship. If it doesn't feel like a good pairing – don't panic. There is a dentist you can trust out there for you.
Book a New Patient Exam at Willow Tree Dental Centre Today!
We really love welcoming new patients to the practice and igniting new relationships with our patients and their families. Dentistry is our passion and our team has been built to ensure we all provide a high-quality service that you can trust. We hope that you can feel this too!
get in touch