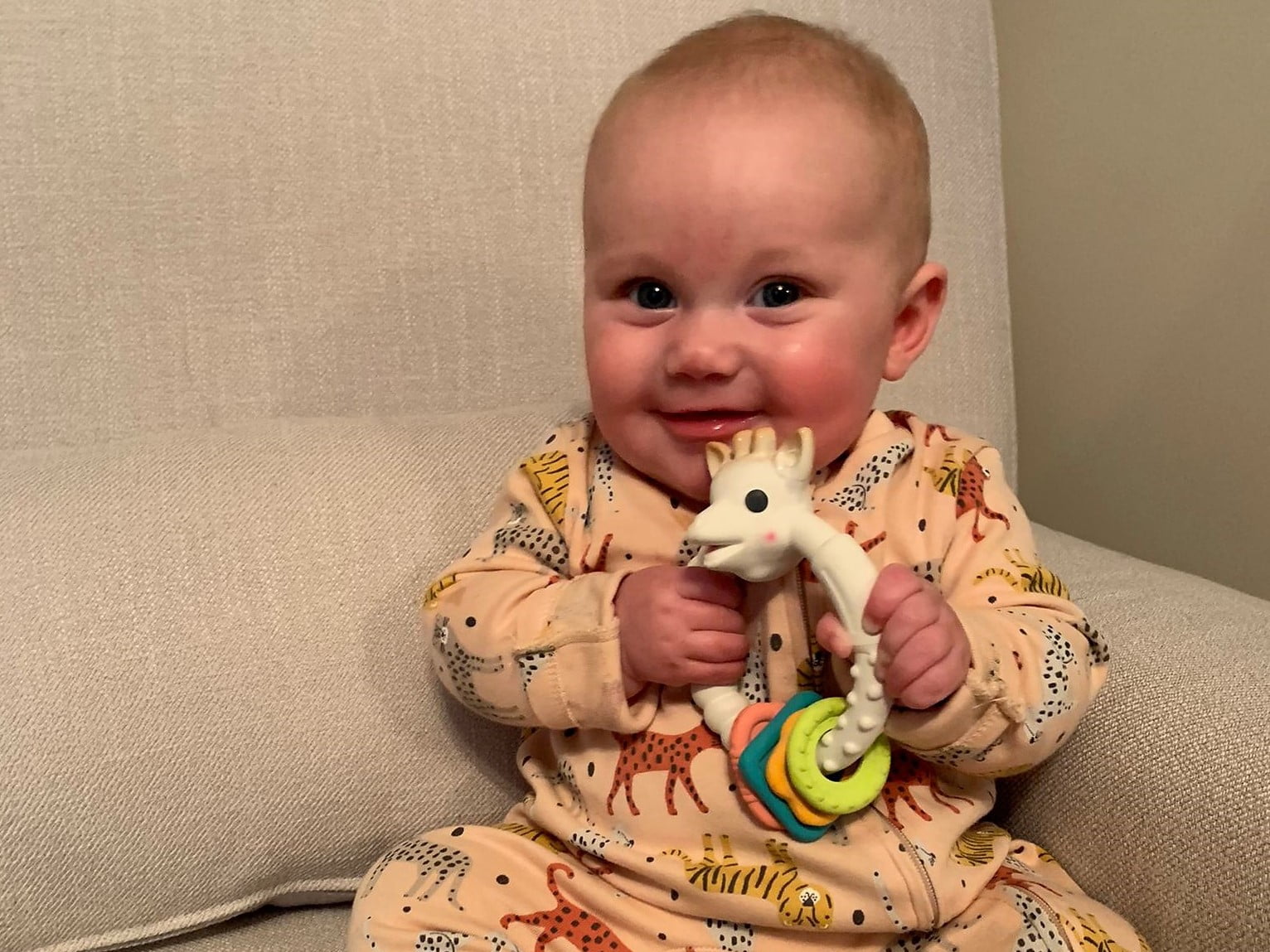 06 Dec

10 Facts About Teething

Posted by: Jodie Blades Dental Nurse NVQ Level 3
Medically reviewed by: Dr Maria Kalkani Paediatric Dentist DDS Thessaloniki 2007

As a dental practice of mums we know how difficult teething can be, not only for the poor little one going through it, but for the parents who have to try and understand what's going on and help them to deal with the pain.

Find out how it occurs and what our children's dentistry experts recommend to tackle this difficult stage and relive your baby's teething pain.
Signs & Symptoms
While some babies go through the teething stage with ease, others struggle and find the process quite painful. Babies usually (but not always, so don't worry if your child hasn't started teething yet, they will, or if they have started early, that's fine too!) start teething around 6 months old. If you are unsure if your baby is teething or not there are a number of signs you can look out for.
Excessive Dribbling
Flushed Cheeks or Rash on Their Face
Irritable
Not Wanting To Eat
Mild Temperature of 38°C
Swollen, Sore or Red Gums
Gnawing or Chewing Things
Change in Sleep Pattern or Trouble Sleeping
As a parent you get to know your little person inside out, you will be the first to notice any changes in their personality so, if you think they are teething, they probably are.
What Is Teething?
Teething refers to the process of an infant's deciduous teeth or baby teeth emerging through the gums. Baby's grow their first set of teeth while they are still in the womb but they are below the gums until they start teething.
The teeth erupt through the gums in stages with central lower incisors (the front teeth) usually coming through first. Followed by the top central incisors. Other teeth follow over the following months. Children usually have their full set of baby teeth at around 2½ – 3 years of age.
Sometimes the process of teething is sometimes referred to as "cutting teeth" however, they do not cut through the flesh. Instead, hormones are released within the body that cause the gums to separate slightly, allowing the teeth to come through.
How To Relieve And Treat Pain.
Teething is natural occurrence in infants, and the pain is usually very mild and does not last long. However as we mentioned before, you know your baby, so you know if they are suffering. Before you reach for the Calpol or ibuprofen (always read the label and do not exceed the stated dose) try these other remedies to help your child through teething pain.
Massage Your Baby's Gums
You should make sure your hands are clean. Babies mouths are extremely sensitive to bacteria. Gently rubbing a clean finger along your baby's gums is great way to numb the pain, your direct interaction will also help to calm and soothe them.
Teething Toys
These are wonderful tools for helping your child through teething pain. The light pressure of them biting down on the toy helps to alleviate pain, they also work as a great distraction too. Tip: Try chilling teething toys in the fridge, this will help to reduces swelling as well as numb and soothe it.
Frozen Fruits
If your baby is enjoying the weaning stage and likes their food you can use this to your advantage. Puree a banana or their favourite fruit, use a mesh feeder, which you can also chill, and let them enjoy a healthy snack while relieving their teething pain. Always supervise babies while they are eating.
Prevent Irritated Skin
Excessive dribbling will cause irritated skin on your baby's chin, neck and chest. Keep their skin as dry as possible by using a bib and changing wet clothes. If your baby does develop dry, chapped skin, apply some barrier cream onto the irritated area.
Teething Granules and Gel
There is a lack of evidence that these medicines are effective, and a high chance of your baby swallowing most of this type of topical medicine. We would recommend that parents try all of the other options for teething first and would always recommend Calpol over this treatment to relieve pain. If you have tried all of the options and your baby still seems to be suffering you might decide to use teething granules or a gel, make sure you use one that is specially designed for young children. Always follow the instructions of use and make sure it is licensed for use in the UK.
When To Visit The Dentist
You should start brushing your baby's teeth with fluoride toothpaste as soon as their first milk tooth breaks through. Tip: Introduce them to a toothbrush without toothpaste before they start teething. Get them used to using it regularly.
Children should have their first dental visit as soon as their first baby tooth has erupted. This allow the dentist to check the health of your baby's teeth and highlight any issues that may cause dental problems in the future.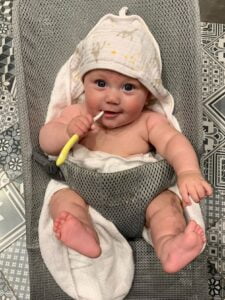 Finding A Dentist For Your Child.
We all know the stigma around visiting the Dentist but, the dental industry has come a long way from the scary, unwelcoming environment it once was. The intimate process of dentistry should be carried out with care, kindness and respect for the patient, especially children. Forming a good relationship with their Dentist at an early age will have a positive impact on your child's future oral health.
With that being said, having a bad experience as a child, carries through into adulthood so you want to be sure the dental practice you choose will suit your family.
As mums we understand the importance of creating a kind, fun environment for children. At Willow Tree Dental Centre we pride ourselves on getting to know our little patients and making them feel happy and comfortable in our practice.
If You Are Interested In Booking Your Child's First Dental Exam or You Would Like To Know More About Our Practice Get In Touch Today. We'd Love To Hear From You!